Sjöstugan - idylliskt invid sjön / Sjöstugan - idyllic by the lake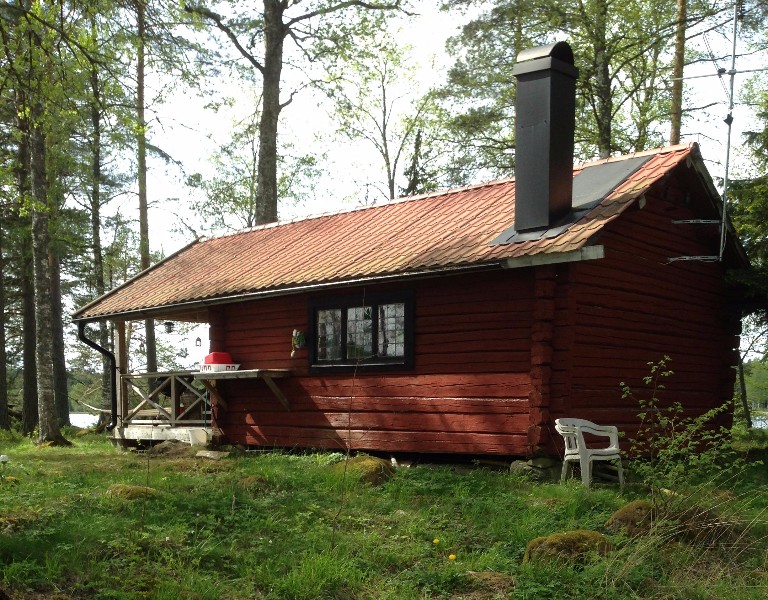 Sjöstugan är en charmig timmerstuga som ligger precis invid Ljömsebosjön (ca. 15 km NV om Sala) på en egen liten udde. Det är ett enkelt boende i samförstånd med naturen. Miljötoa/separett och sommarvatten finns vid husknuten. Stugan har en möblerad veranda med grill, och även möbler ute i det fria. Dusch finns att tillgå i mangårdsbyggnaden - där ni även kan boka vedeldad bastu (efter ök). Lakan och handdukar finns att hyra, och det går också att boka frukostbuffé för den som önskar. Frukosten kan avnjutas uppe i mangårdsbyggnaden, på verandan (som vetter mot sjön), eller ute på vår egen brygga.
Sjöstugan at Ljömsebo Gård is situated about 15 km northwest of Sala and right by the lake "Ljömsebosjön". This is the ideal place to wind down and enjoy life on the Swedish countryside. The beautiful natural surroundings are perfect for you who wish to relax and enjoy the outdoor life. Sjöstugan is a humble accommodation with earthtoilet and cold water at the corner of the house. It has a furnitured veranda with grill and also furniture out in the open. Shower is available in the mainhouse - where you can also book a sauna (after agreement). Sheets and towels are available for rent, and it is also possible to book breakfast buffet - which can be enjoyed up in the mainhouse, on the veranda (facing the lake), or outside on our private dock.
Hitta hit / How to get here
Bankgiro: 889-8462
Länsförsäkringar Bank
IBAN: SE82 9020 0000 0902 3115 1340
BIC/SWIFT: ELLFSESS